What Should You Expect and What Are Your Alternatives?
Capturing streaming video in either Real Video, Flash Video, or Windows Media format and obtaining professional results is a time consuming and complex process. Because of the steep learning curve and significant investment in hardware and software, most companies who have a need to add streaming video to their webpages or corporate Intranet outsource their production needs to professionals like ourselves to get their jobs done quickly and inexpensively. Outsourcing projects saves time, money and manpower, and results in a far superior finished product.
The Quick and Easy Answer
If you're tempted to convert your own video tapes into streaming video and would like to know if it makes the most sense for your company, please take a look at our list of customers and examine the number of high-tech companies, video producers and web developers who use our services and ask yourself this simple question:
Why would so many companies who have the obvious talent, equipment, and money choose to outsource their video conversion projects to us if it was that simple or inexpensive to do themselves?
The answer is that the more a customer understands about streaming video conversions, the more likely they are to understand why they should outsource their projects to professionals in this field.
An ROI Perspective
If you're an IT manager or have P&L responsibility within your workgroup, you're already aware that the days of doing everything in-house without concern for ROI are changing rapidly. Unlimited budgets for software, hardware and training without regards to cost justification no longer make sense. Additionally, keeping your personnel up to date on all of the latest video technologies is too costly and time consuming to sustain as an internal mandate. Your total cost of producing streaming video in-house will generally range from 5 to 10 times the cost of using a professional firm like our own.
If you do decide on producing and capturing streaming video, this is what you can expect. Your investment in hardware and software is just the tip of the iceberg and will usually be several thousand dollars for low to mid-priced equipment alone. You'll need a capture card, sound and picture editing software, a video deck, an AV rated hard drive with a significant amount of storage capacity, and a back-up preferably in the form of a DVD drive you can archive to. Assuming you make the right choices on all of your hardware and software purchases your first time out, and you don't need to purchase different equipment which is better suited to the task, it's now time to learn not only how to capture and convert your movies, but also how to enhance both picture and sound quality prior to conversion. If you skip this step, your finished product will be of inferior quality.
After several weeks of failed attempts, you may stumble upon some settings that produce acceptable results for the particular movie clip you're working on and you'll feel great. Unfortunately, when it comes time to capture another video clip later on, you'll either have forgotten the sequence of techniques which you used the first time, or they won't work with your next movie because the picture or sound quality is somewhat different than your earlier production. As a rule of thumb, you can generally expect an approximate soft and hard dollar cost of several thousand dollars to produce your first streaming video clip if you're doing it on your own. This represents not only your investment in hardware and software which will become obsolete in 6 to 18 months, but also your salary costs as well. That is an extremely steep investment to be making in a technology which is constantly evolving and one which you won't be using on a daily basis. The regrettable fact of the matter is that for many companies who attempt to produce streaming video on their own, they end up coming to us after they've learned the hard way.
A Better Alternative
If you are truly looking for the highest quality streaming video and most cost efficient way of achieving this, outsourcing is your single best choice. If you choose us as your producer, we'll make the process simple and as inexpensive as $40 per clip you have us digitize. Regardless of the size of your video conversion project, we can deliver a superior product at less cost and in less time than attempting to do it on your own.
When we handle your streaming video conversion, you will receive:
Choice of formats - We will encode in your choice of Windows Media , Real Video, QuickTime or Flashformat.
Choice of delivery speeds - We can encode your presentation to be delivered at 28.8, 56k, ISDN, T-1 speeds or over a LAN.
Choice of movie size - You pick the how large you want your movie to look.
Complete HTML code - We totally eliminate your learning curve by providing you with the complete code to paste right into your pages.
Fast service - On most projects, our turn-around time is 24 to 48 hours regardless or your geographic location.
Phone support - We're here to answer your questions 12 hours a day.
Affordable pricing - Our full-service rates are under $100 - the most competitive in the industry. There are no other ongoing fees or charges of any kind.
Subcontracting source - If you're a website developer yourself, outsourcing is by far your most economical choice.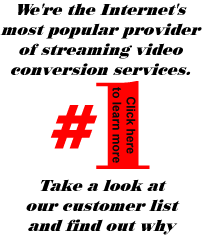 Watch Our Own Productions
Each of our six presentations have been prepared in multiple formats for your convenience. We invite you to watch any of these movies at this time by following these links:
When you're ready to visit, please call us at 800-707-8511 or E-mail us at media@cybertechmedia.com.


LinkExchange Member