Video Tape Conversion Services
When it comes to converting video tape to streaming video, CyberTech Information Group is the leading producer of movie clips in Real Video, Vivo, and Microsoft NetShow formats. In fact, we've been chosen by more high profile customers and start-up entrepreneurs alike; and for very good reason - we consistently provide outstanding results.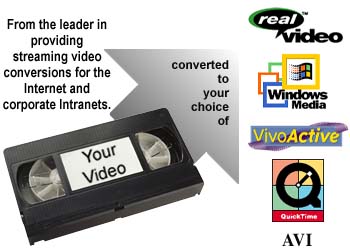 Outsourcing Your Streaming Video Project
Because of our extensive background as online multimedia producers, we're able to provide our customers with not only professional results, but also expert advice and information, 24 to 48 hour turnaround time on most projects, and the complete HTML code to paste right into their pages - all at the most competitive prices on the Internet regardless of your geographic location.
We invite you to learn more about our Real Video, Microsoft NetShow and Vivo conversion services. We also provide VHS to AVI and VHS to QuickTime digitizing for CD-ROM high resolution, stand-alone presentations.
When you're ready to visit, please call us at 800-707-8511 or E-mail us at media@cybertechmedia.com.

LinkExchange Member