Streaming Video Encoding Worldwide Service
CyberTech Media provides worldwide streaming video encoding services for Real Video, Windows Media - Microsoft NetShow, and Vivo formats. Regardless of your geographic location or time zone, we can provide your company with fast professional encoding services in your choice of Real Video, Windows Media (formerly Microsoft NetShow), Vivo, QuickTime or AVI formats.
In addition to having customers in most states in the U.S. (see map below) and throughout Canada, customers from Europe, Asia and South America have chosen us to provide streaming video encoding services because of our reputation for extremely high quality work. We regularly work across time zones to deliver quality, service and support when you need it, and when it's convenient for you!
And for international customers, we can even FTP or E-mail your finished streaming video files to further save time and delivery charges.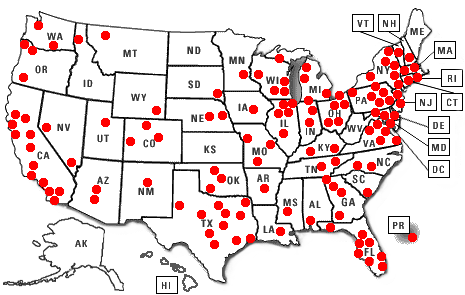 Overnight Delivery Provides Convenience and Cost Savings
Customers who use an overnight delivery service to send us their videos for encoding routinely save more time and money than if they were to drive across town to have their video encoded locally. Additionally, they know they'll receive our professional tech support which will insure that the implementation of their streaming video on their Internet or Intranet site will go flawlessly.

To add streaming video to your website or corporate Intranet or to have your video tape transferred to CD-ROM, simply send us your Beta, VHS or S-VHS video clips using our mail-in video submission form. If you have any questions about encoding your videos, please call us at 800-707-8511 or e-mail us at media@cybertechmedia.com.

More Information About Streaming Video
For additional information and actual demonstrations of streaming video, don't forget to visit these pages.

We also do video conversions for web developers.
LinkExchange Member