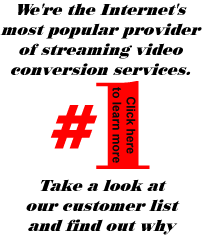 Using Low Bandwidth Online Streaming Video Presentations To Get Your Message Across

Online streaming video presentations on your web site are another excellent tool you have at your disposal to capture the imagination and interest of your visitors. We can produce streaming video for your website in your choice of QuickTime, Real Video or Windows Media (formerly Microsoft NetShow) format. Adding far more than a personal touch to your web site, streaming video can actually set you miles apart of your web-based competition. Best of all, anyone can add streaming video to their web site for under $100. You don't need any special equipment, nor does your Internet service provider.

Please note that we have recently spun off this section of our site to a new stand-alone URL at:
Selecting The Right Format
The key to correctly using online streaming video is to select the correct format, and use the right tools which will allow a highly compressed video to stream with little or no interruption. If you've ever seen video on the web before, you could be accustomed to waiting 15 minutes to download a video clip that's only going to last 5 or 6 seconds.
As you are about to see, the technology which we use allows the video to begin playing within a few seconds and is totally uninterrupted at a 28.8 connection. There is a high degree of compression, so the total file size of our 30 second video is approximately 100,000 bytes - little more than a photo quality GIF or JPG file! Obviously there is some trade-off in picture quality in order to achieve streaming video, but it is certainly worth the results you'll be obtaining. And as the technology that fuels the web continues to evolve, the gap between infomercials on TV, and carefully crafted and multimedia-enhanced web sites will continue to narrow.
Think Of The Possibilities

Here's an actual example of how streaming video and audio would look and sound on your own pages. We've prepared this video in three formats - VivoActive, Real Video and Windows Media. If you don't already have any of these plug-ins, please bookmark our site before you leave to download the software.
Anyone Can Have Streaming Video Now!

Hopefully, you're already thinking about how you can use video presentations on your own site to generate more business. We can convert most video from Beta, VHS, VHS-C or S-VHS tapes into effective, eye-catching online video presentations for your web site and have you up and running within days. No special hardware or software is needed on your end or by your Internet service provider. Even if your web pages are on CompuServe or AOL, you can still have streaming video on your site right now.

When you choose CyberTech to produce streaming video for your website, you'll know the job will be done professionally. We have the experience plus the full range of professional-strength video conversion and video rendering software and hardware to handle your most demanding projects.

If after reviewing the information on this page, you still have any questions about adding Vivo, Real Video or Windows Media streaming video to your web site, and you'd like to visit with us, please call us at 800-707-8511 or E-mail us now.

Streaming Video On Your Website For Under $100

We will completely digitize your Beta, VHS or S-VHS video presentation for as little as $40 and furnish you with the complete code for your pages. We make the whole process so easy you can have streaming video on your site this week! For complete details, please see our Video page or print out our mail-in submission form.

And, if you're a web site designer yourself, we're a leading subcontractor and will even extend to you our same prices.

Remember to see these additional pages which deal with streaming video.
About Streaming Video Quality
As we've already discussed, in order to stream video over the net without waiting minutes or hours for a download, the video is compressed to as little as 1/200th of its original size. To achieve this compression, a certain amount of clarity and smoothness is sacrificed so that it can be transmitted at standard 28.8 modem speed.
It is possible for us to increase the clarity of video by digitizing it for transmission over higher speed connections such as 56K, ISDN, T-1/cable modem/satellite dish or LAN. Many web sites choose to have alternate speed video clips produced so that the visitors to their site, who are using a high speed cable modem for example, will get a better video transmission.

LinkExchange Member