Vivo Video Presentations On Your Web Pages For As Little As $40
Vivo video presentations are the single most cost effective multimedia solution you can add to your web pages to increase repeat visits and boost sales. Most importantly, they have the same media impact on your prospects that TV commercials have, as opposed to print ads or static web pages, and that means sales!
Online streaming video files are small, but very effective - only about 80k for every 30 seconds of viewing time, but yet they begin playing almost immediately.
Use The Same Winning Formula Other Successful Online Marketers Are Keeping Secret
Online video allows you to level the playing field with web sites who have budgets in the tens or hundreds of thousands of dollars per year. Far more than just the cure for non-existent or sluggish sales, online video will allow you to literally clobber your competition.
It's hardly a secret anymore that successful marketers on the web are already using streaming video presentations to achieve some very significant sales figures. Why does video work so well? Because it makes their presentation not only unique, but more in line with what people are used to seeing on TV.
Add A Bit Of Magic To Your Web Pages
You don't need to wait weeks or months to boost the performance of your site. Simply record your short video presentation on any Beta, VHS or S-VHS tape and we'll do the rest. If you don't think you'd make a good appearance on video, have an employee, family member or friend make the presentation for you. We've even put together a number of pointers on our convenient mail-in order form that will help you make the best video possible.
Still Have Questions?
If after reviewing the information on this page, you still have questions about adding Vivo, Real Video or Windows Media streaming video to your web site, please review our Vivo FAQ, Online Video and Free Vivo Graphic pages, or give us a call. Make sure your sales justify your investment of time in money in your web site by adding an affordable multimedia solution to your site today.
Getting Your Free Software
To the right is one of 6 examples we use on our website to illustrate how streaming video would look and sound on your own pages. We've prepared this video in three formats - VivoActive, Real Video and Windows Media. If you don't already have any of these plug-ins, please bookmark our site before you leave to download the software.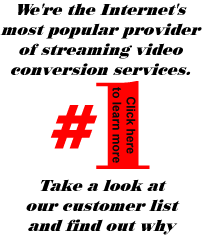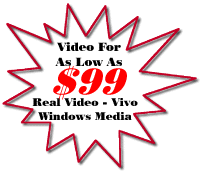 Save Thousands And Have Streaming Video On Your Web Site Within 48 Hours!
The cost of the hardware and software (see table below) to produce your own streaming video is $3,500 at a bare minimum and that assumes your PC is powerful enough to run it. Add into that figure 60 to 90 days of learning time and you'll finally have video on your website.
We believe everyone should be able to have Vivo, Real Video or Windows Media (formerly Microsoft NetShow) streaming video on their pages. For as little as $40 per video clip, we will:
digitize your video from any Beta, VHS or S-VHS tape and
provide you with the complete HTML to paste right into your web page(s) for instant video. An online video clip is no harder to add to your page than any other graphic.
All for only $40 to $99 per video clip, and all within only a 48 hour turn-around time!
Or, for slightly additional, we'll even modify your pages for you.
Attention Web Site Developers
You can save thousands of dollars and eliminate your learning curve altogether! We probably already handle more sub-contract work from other web site designers than any other firm, and the reason is simple. Video production is the single most costly and time consuming process a web developer faces. That's why most rely on us to do the work for them. It frees up your time and capital and allows you to attract even more new business! Try us out next time you want to supercharge one of your client's sites and we'll even extend to you our $99 video offer! We're recognized experts in our field with over 6 years full-time experience in online marketing.
To add Vivo video, Real Video or Windows Media streaming video to your website now, simply print out our convenient mail-in order form and send it to us along with your video tape. We'll do the rest.
Remember to see these additional pages which deal with streaming video.

Call us for special pricing on large volume orders.
Cost Comparison Of Digital Video Production For Web Pages
Item
Producing It Yourself
Using The Video Magic Services Of CyberTech Information Group
Video Digitizing Board
$1,000
$0
Video Digitizing Software
$600
$0
Vivo Licensing Fee
$500
$0
Audio Enhancement Software
$400
$0
Writable CD Recorder if you plan on doing more than just a few videos
$1,000
$0
Acquisition and Installation Time For Software and Hardware* Plus Learning Time For Three Advanced Programs
60 - 90 days
0
Your Lost Production Time And Value By Doing It Yourself Or Diverting An Employee's Work Flow
???
0
Total Cost
$3,500+++
$53 to $99
Total Time
60 - 90 Days
48 Hours
* Assumes you have a Pentium computer already with a high speed AV rated hard drive and a lot of RAM. If not, add thousands additional to total cost.
About Streaming Video Quality
As we've already discussed, in order to stream video over the net without waiting minutes or hours for a download, the video is compressed to as little as 1/200th of its original size. To achieve this compression, a certain amount of clarity and smoothness is sacrificed so that it can be transmitted at standard 28.8 modem speed.
It is possible for us to increase the clarity of video by digitizing it for transmission over higher speed connections such as 56K, ISDN, T-1/cable modem/satellite dish, or LAN. Many web sites choose to have alternate speed video clips produced so that the visitors to their site, who are using a high speed cable modem for example, will get a better video transmission.
If you'd like to visit with us about including video presentations on your web site, please call us at 630-690-7611 or E-mail us at cybertech@ameritech.net. To order video for your web site now, simply print out our convenient mail-in order form and send it to us along with your video tape. You may also visit our new site at http://www.cybertechmedia.com.

LinkExchange Member