AVI and QuickTime Video Production
We provide reliable, high-quality VHS to AVI or QuickTime video tape conversion. Whether you have a 30 second TV commercial to convert or a 15 minute video taped presentation, we can digitize your video tape into your choice of AVI or QuickTime format and write it to CD.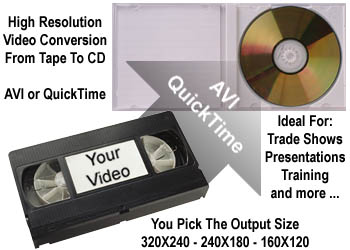 Digital Video On CD Starting At Under $100
Regardless of the type or length of content, we can convert it into AVI or QuickTime format usually within 24 to 48 hours.
Digital video has many applications, and several advantages over video tape. Its ease of use and portability make digital video ideal for:
Trade shows
Presentations
Training
Fast - Easy - Affordable - Choice of Size
When you choose CyberTech to digitize your video tape, you'll be guaranteed to gain all of the benefits of digitized video without any of the headaches or heavy expense. We can even produce your video to the size specifications you desire - from 160X120 to 320X240. If you plan on stretching your video to a larger size, or even full screen during playback, you'll want to select the initial size of 320X240 as your resolution will be greater after you resize your viewing window.
To have your video digitized and written to CD, please submit your video to us using our mail-in submission form. If you have any questions or would like to discuss digital video further, please call us at 630-690-7611 or E-mail us at cybertech@ameritech.net.